Jessica Iriarte, Karen Olson, and Mary Van Domelen share their insights and advice for thriving in a career in oil and gas
With a combined 85+ years of experience in the industry, Jessica, Karen, and Mary certainly have their fair share of stories and advice for navigating a career in oil and gas. From living and working in places like Italy, Norway, Cairo, and Latin America to balancing careers and personal lives, these three leading ladies of completions share some of their lessons learned and best advice.
Q: What inspired you to enter the oil and gas industry?
A: Mary
I have a chemical engineering degree from Oklahoma University, and the oil industry wasn't in my original game plan, but that changed when I was doing on-campus interviews. I was interviewed by Mike Conway, one of the legends of hydraulic fracturing. His enthusiasm sparked my interest. He was just so excited about the work and shared pictures of the trucks on location and talking about projects. As he shared stories, I keyed in on how Halliburton's Research Center supported global operations. I had never been outside of the US and was very interested in traveling, particularly the opportunity to travel internationally. So it was really Mike Conway's passion that led to my first job with Halliburton Energy Services.
A: Jess
While I was in middle school, an organization in Venezuela hosted the Petroleum Olympiads, in which I participated for three years. It was a reading and comprehension competition, and the content was focused on the industry, which sparked my interest. That – and the combination of my love of science, math, and physics – is what drove me to study petroleum engineering as well as the opportunity to travel or work in different countries. Once I entered the industry, I realized it was my passion. I started working in the field as a Frac Engineer, where I was mainly offshore and had the chance to work in Ecuador. I then moved to Europe to work on completions (tools side) projects in Italy and Croatia. In 2015, I moved to Colorado to pursue a master's degree at Mines, and in 2016, I started an internship at Well Data Labs, which is where I have been since.
A: Karen
As a teenager, math was my favorite subject. I really liked math and wanted to find a way to apply it. As I was trying to decide on a major, math was the obvious choice. My parents were supportive, but my father very casually said, "Well, just make sure whatever you major in can support your spending habits." A little light bulb went off in my head, and I decided to major in petroleum engineering. It was the hot engineering degree in the late 70s early 80s due to the oil boom that was going on, and I could make a living in it. Plus, the thought of overseas assignments was attractive. I decided on LSU because it had an excellent petroleum engineering department, and I also wanted to try out for the LSU Tigers marching band, which I made. I gave the same advice to my daughters that my father had given me, and they are now both engineers (one is Petroleum and the other is Mechanical).
Q: Where are some of the most exciting places your career has taken you?
A: Mary
I've lived and worked overseas for a total of 12 years. I spent six years in the Netherlands, which is a wonderful place to live, three years in Cairo, Egypt, and then three years in Copenhagen, Denmark. The most exotic place that I traveled to for work was this really remote camp called Badak in Balikpapan in Indonesia. It was like going back in time.
A: Jess
I've worked in Ecuador, Venezuela, in Europe, and here in the US. But I've also visited several places through conferences, meetings, or training. Abu Dhabi has been one of the most exciting places that I've visited, along with Denmark, where I toured the Blue Orca in the North Sea.
A: Karen
I lived and worked in Norway for about six years. When I worked in the North Sea, sometimes I would go offshore to work on semi-submersibles. Once, we experienced 14-meter waves, which bounced the semi-submersible around like a tin can. Luckily, I didn't get seasick on that trip. As an SPE Distinguished Lecturer, I'd say the most exotic place was probably Uganda. While in Uganda, we did a safari to see the oilfields. To see the poverty amongst a beautiful country and the hope that the oil industry would bring the country out of poverty was pretty amazing.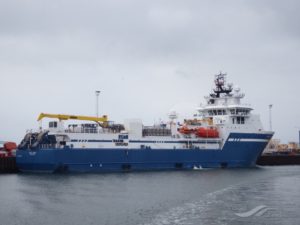 Fun fact: Mary Van Domelen helped bring the Blue Orca to the North Sea by negotiating with Maersk Oil and Baker Hughes on the contract. Alongside a Maersk Shipping colleague, she was responsible for the design specs of the stimulation equipment that ensured the selected vessel met requirements for the North Sea.
Q: How would you reply to the question "Why would anyone want to work in oil & gas?"
A: Jess
It's a fascinating industry, and you have the opportunity to work and travel around the world. You definitely have to adapt to different environments, especially in a multicultural workplace. And I love that about the industry. It's also a technically challenging industry – both in operations and research. We have some fantastic challenges and problems to solve.
A: Karen
Yes, I agree with Jess. If you like challenges and you like to solve problems, there's so much we still don't really know and are working to figure out. But I also hear people say, "oh, we're transitioning to other energy sources." Still, I don't see oil and gas going away. It is a reliable energy source for the world. It can bring countries out of poverty – I just don't see it disappearing. What I do see is the need for the younger generation to come in and make a difference. There is so much knowledge and such a can-do spirit in this industry. And we can make a difference when it comes to the environment and methane emissions, which can significantly impact the world. And I think it's really going to be the oil industry that does it because we're the ones that really understand it best, but we really need the younger generation to join us and take us down that path.
A: Mary
Building on what Jessica and Karen said, there's also tremendous opportunity in this industry and responsibility that you can get early in your career. Sometimes it's mind-boggling. Karen talked about going out to semi-submersibles. I've worked in the North Sea as well. And there's nothing like being on a frac boat and executing a job and thinking about the value of the well you're responsible for, the decisions you're making, and the impact those decisions have. And what that responsibility means in terms of safety, the environment, and the return on investment for the company. In many careers, you really don't get projects that can make that kind of an impact until later in your career. In oil and gas, it can happen very early. And I think that ties to the can-do attitude of solving problems and making things happen.
Q: What are some of the different career paths this industry provides in technical or managerial positions?
A: Karen
After 37 years in this industry, I don't think you take just one path; I think it's more of a zigzag type of track. If you're just entering the industry, my first piece of really big advice is you want field experience. To truly understand what's going on, you want to work in the field as much as possible. And for new engineers who may someday want to own or operate an oil and gas company, you need to understand every operation every step of the way – from the point of being able to drill a well, complete it, and hook it up to facilities. You will only get that understanding by being out in the field and seeing it firsthand.
And if you're interested in a leadership position, you need to raise your hand for projects – that's how you add value to the company by delivering projects. That's sort of how my path was; I would do a project, then I'd be offered a leadership role. And then something would pull me back into the technical ranks, and another project would show up, and I would either raise my hand or was asked to deliver a project. As you go along in your career you need to find that one thing that you have a passion for and then get really good at it – ie, you need to have technical expertise, and it is usually something that you really enjoy.
Lastly, I've told engineers to try to stay close to the wellhead, too. The closer you are to the wellhead and adding value, the more the company sees that it needs you. This is especially important during downturns and when things slow down.
A: Mary
When I started work, I didn't really think about being in a technical or managerial position; I just started a job that I really loved. I worked in a research lab for a period of time and then transferred overseas and worked in a management role. After three years in that role, I went back to research, and I've bounced around between research and technical support for sales. I believe it's essential to maintain at least one strong technical discipline, whether you're managing or not. Having an expertise is almost as critical as being close to the wellhead. For me, it was acidizing, which was always a stepchild in stimulation compared to fracturing. There were very few people who had that expertise. Fast forward, now I'm more involved in fracturing, and most people don't know I have acidizing expertise. What carried me through the first 25 years – the downturns and upturns – was working in an area with a small pool of people with that expertise.
A: Jess
It's interesting that Mary talks about acidizing. When I started in the field, we performed several types of pumping jobs, sand control, acidizing and proppant fracturing, and acid fracturing. Thinking about it now, sand control was my expertise in the field. And that's what took me overseas to Italy when I was working on the tool side of completions. It was more operationally focused – design and project management – which was exciting, but it's when I started to realize I wanted to do more technical work. That's when I pursued my master's, and I loved learning about unconventionals and doing research. Since then, I've been at Well Data Labs doing research and working with our data scientists. As the R&D manager, I still play a very technical role acting as the subject matter expert or translator between our data scientists and the industry. They are experts in their field, but they don't have a deep operational and technical background working with oilfield data and sensor data. I've worked in the field and understand the data very well, so I'm able to communicate with engineers and customers and bridge that gap. I design the projects, define goals, and help the team understand why the data is behaving the way it is. They bring expertise in statistical programming, so we lean on each other – it makes for a good team.
In the video below, Karen, Mary, and Jess share some of their advice and mantras they've followed in their careers.
---
Jess, Karen, and Mary are very active members of the Society of Petroleum Engineers, and have served or will serve as Distinguished Lecturers. Well Data Labs is proud of the accomplishments of these three industry-leading engineers. To connect with them on LinkedIn, click on the images or links below.

| | | |
| --- | --- | --- |
| | | |
| Jessica Iriarte | Karen Olson | Mary Van Domelen |
---
Most recent blog posts and articles
Teasing Meaning Out of a Tangle of Fracturing Data, an article in the January 2021 Journal of Petroleum Technology featuring Mary Van Domelen
VFR, the new buzz word in the oilfield! What is it?, a blog post written by Karen Olson
Making historic fracture design evaluation easier with machine learning, a blog post that summarizes a paper presented at URTeC 2020 by Jessica Iriarte